We're here. We've made it. The promised land. The team at least one follower of this blog cares about. We're In This Thing proudly presents the Green and Gold, the Swingin' A's, the Oakland Athletics.
I was a bit inspired reading Frank's Pirates post. In 1992 the A's won the AL West at 96-66. In 1993, they went 68-94. It was a bit of a turnaround, to say the least. They reached their low in 1997 at 65-97. But there was hope on the 1997 team in the presence of then LF/1B Jason Giambi and September callup shortstop Miguel Tejada. By 98 they added another kid in third baseman Eric Chavez, and by 1999 a dynasty was born. So, why were the A's able to turn it around in 7 years, while the Pirates are working on their 20th losing season? Moneyball.
Of course, there were bumps along the road. This guy was once a number 1 starter and top prospect.
So was this guy.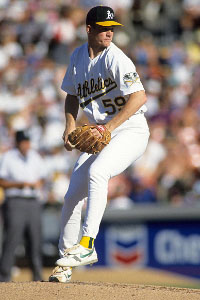 Name them for bonus points. Hint, the latter was once the hottest pitching prospect in baseball. He, Kirk Dressendorfer, Dave Zancanaro, and Don Peters were Oakland's first try to build aces... none worked out.
The A's have been the darlings of the small market team landscape since the early part of the 2000s, reaching their stride with the publication of Michael Lewis' book,
Moneyball
. The A's and Billy Beane built playoff team after playoff team between 2000 and 2006 on a shoestring budget. They did get pretty lucky with a few draft picks where the Pirates haven't, but the players added around those kids were the difference in winning and losing. Matt Stairs, Scott Hatteberg, Frank Thomas, David Justice.... all guys other teams had written off. The A's gave them new chances, and they produced winning teams. Hudson, Mulder, and Zito were all able to develop as number 3 in the rotation with guys like Kevin Appier and Kenny Rogers eating innings. Though those teams never made too much noise in the playoffs, their success transpired a new way to evaluate baseball talent and build teams. And, as will be seen this year, they're still able to succeed.
If you haven't read it yet,
Moneyball
is absolutely fascinating. What Billy Beane accomplished was truly revolutionary. You can look for me in the movie coming out this summer!
In 2010, the A's finished at 81-81 after sweeping the Mariners in the final series of the year. For the expectations set at the beginning of the year, it actually was an excellent season, and set some great foundations for this year. The pitching was the best in the American League, sporting a 3.56 team ERA. Unfortunately, the hitting did not keep pace. They finished 26th in slugging, and 17th in batting average. They only hit 109 home runs, third fewest in the majors. Clearly something needed to be done, and Billy did it.
In an offseason that's making me happy, the A's have been tabbed my many experts as the trendy "team to surprise" in 2011. I'm right along with them. On paper, this is a team that could be last year's giants. Though they haven't had the best spring, they are poised to have one ride of a summer.
It's easiest to put it this way. The Athletics added without subtracting. Last year, the three-four-five hitters on opening day were Ryan Sweeney, Kurt Suzuki, and Kevin Kouzmanoff. This year, Kurt Klutch and Kouz will hit somewhere in the 6-7-8 range, and Sweeney is the 4th outfielder. Their skills didn't diminish, the A's just got better.
Catching will still be Suzuki (.242/12/71). Now, down in the order, he'll have much less pressure, and I believe his numbers will balloon to something like .285/18/91. At first will still be Daric Barton (.273/10/57). He never quite lived up to his billing, and it would be nice to have a little more power out of your first baseman, however, I believe him to be one of the best #2 hitters in the game and with better hitters behind him, should see even more pitches to drive gap to gap. At second will be the hugely underrated Mark Ellis (.291/5/49). He makes everything hit to him look routine and makes few mistakes in the batters box. He is one of the main models of consistency in the majors. Shortstop with still be manned by the young Texan, Cliff Pennington (.250/6/46). He fills the nine hole just fine, and really developed as a hitter last year. Though he'll never be a superstar, he's definitely much better than say, Ronny Cedeno. Third base will still be Kouuuzzzzz (.247/16/71). He was not quite as advertised after coming over from San Diego, but now, hitting out of the seventh hole and familiar with the league, his numbers should rebound to 2009 levels.
So the infield was the same, how is this lineup better? Well, Coco Crisp (.279/8/38) will still be out in center, stealing bases like no ones business, but the corner outfielders are all new. David DeJesus (.318/5/37) will be in right field and batting third, and he's a guy who has all five tools. His season was cut short last year with a thumb injury, but should add 15 homeruns and an average over .300. With a nit more power in left field will be Josh Willingham (.268/15/56), another guy who had a season ending injury last year, buy a guy who could easily post 25 dingers. Rounding out the offense in the DH role will be Godzilla. Hideki Matsui (.274/21/84) will make his third stop in the bigs to play for Oakland, and his 20 home runs and 90 RBI will be welcomed as well.
So the A's added 60 home runs to their order while taking away 20ish from last years lineup. It's pretty impressive to think about. This lineup should be much more productive than last year, which will make the A's a contender.
Why a contender? The pitching staff is really good. The A's have four young starters in Trevor Cahill (18-8, 2.97), Gio Gonzalez (15-9, 3.23), Brett Anderson (7-6, 2.80), and Dallas Braden (11-14, 3.50). Cahill is getting the opening day nod, but all can be aces. The best part about this is that they earned this in under a season. Last year's headlines were about the lack of depth. This year it's about the amazing depth. Winning the fifth starter job out of camp is the "Old Man" (Age 28) of the staff, Brandon McCarthy (7-4, 4.62). If he continues to pitch like he did this spring, he'll be a very serviceable fifth starter.
The bullpen will go hand in hand with the starters to make for one of the most impressive staffs in baseball. Returning are closer Andrew Bailey (2 All-star games in 2 years) and setup men Craig Breslow and Michael Wuertz. Added is form closer Brian Fuentes, and form Tampa Bay workhorse Grant Balfour. When Brad Ziegler, once a setup man, is now maybe a guy you could see pitching to righties in the 7th, you know you have a good thing going.
This team looks eerily like the giants last year... homegrown young pitching, older vets other teams discarded, a few young guys for spice. Could we smell a Green October?
The 2011 Oakland Athletics
C Kurt Suzuki
1B Daric Barton
2B Mark Ellis
2B Kevin Kouzmanoff
SS Cliff Pennington
LF Josh Willingham
CF Coco Crisp
RF David DeJesus
DH Hideki Matsui
SP Trevor Cahill
SP Brett Anderson
SP Gio Gonzalez
SP Dallas Braden
SP Brandon McCarthy
CL Andrew Bailey
Best Case Scenario
The A's live up to the hype. Gio Gonzalez leads a brilliant A's pitching staff to a 3.22 team ERA. The lineup does it's fair share to lead the A's to a bit of a torturous season, but the A's manage 95 wins and a 2 game West division lead. Willingham and DeJesus flourish with their change of scenery, and Matsui proves he wasn't done mashing. The A's face the Yankees in the ALDS, and in a play eerily reminiscent of 2001, Derek Jeter flips another ball from the foul line to home, but this time Barton slides, and the A's advance to the Championship series. Against the favorite Red Sox, the A's look overmatched on paper, but chance out to a 2-2 first 4 games. Needing game 7 in Boston, the A's look to channel every sports movie in history to eek out the victory. In a 2-2 tie in the 12th, Kurt Suzuki does his best Carlton Fisk impression to win the Series. Squaring off in a Bay Bridge Series, the teams manage to play without causing a major seismic event. Instead it is one of the most memorable World Series of the last 20 years, witch the A's pulling it off in 7 games. Ellis wins WS MVP.
The ticker tape parade in Oakland bests even that of San Francisco last year. Enough money pours into the city the Wolff agrees to keep the A's in Oakland in a gorgeoud stadium built above I-980. The celebration in Oakland seeps out over the entire country, and funk becomes the most popular it's been since 1974. Culture flourishes in Oakland, it becomes the greatest city in America. The A's begin a dynasty of 4 straight World Championships. The Yankees luxury tax is doubled, and do not win another Playoff game for 100 years. The world enters a fantastic age of peace and prosperity.
Worst Case Scenario
The A's rotation, heralded as their strength, falls into disarray. All four pitchers look to be number 4 starters at best, and things go downhill from there. Willingham and Matsui go down with season ending injuries early, and the A's offense can't recover either. A long summer follows when what was supposed to be a big step forward proves to be a step back instead. Manager Bob Geren is fired, and the team is handed to hot prospect coach Todd Van Poppel. The A's enter a Piratesque slump, and eventually move to Las Vegas. There is no joy in Mudville.