Well, it's official. The Green Bay Packers are your Super Bowl XLV champions. I thought it was a fantastically entertaining game. The Steelers were poised to make it even more fantastic, but the Packer defense held, and my boy, the Second Coming, Aaron Rodgers, won the Super Bowl.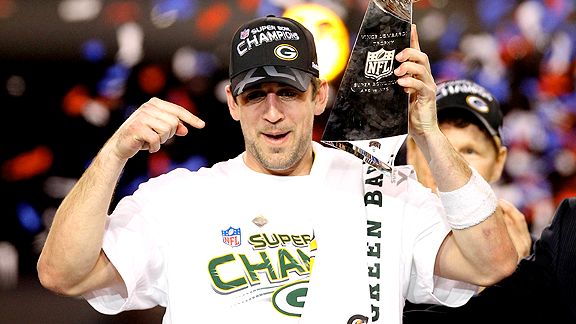 I extend sincere congratulations to the Pittsburgh Steelers, their fans, their city, Mr. Rooney, Mike Tomlin, Big Ben, and every other person associated with the team. They played a fantastic game, and should be proud of what they accomplished this season.
I made a point to a few friends earlier that I want to reiterate. When you get to this level of play, it becomes less about who is the better team and more about who makes fewer mistakes. The KNBR commentator on earlier this evening used this argument to state that this makes it less of an exciting Super Bowl in the annals of history. I disagree. It is what every game is. Mistakes happen. It's been said in every losing post game conference I've ever attended: "We didn't execute." That's what happened tonight. Two great teams squared off. They both played their games that they had played the entire season. When they play each other, they still play those great games, and the team that wins is the team that causes or capitalizes on the most mistakes. Otherwise, we would have seen a blowout. Those only occur when one team beats another team on scheme. That didn't happen tonight. Both teams showed why they were there, one just outlasted the other.
Three Steeler turnovers. 21 Packer points off those turnovers. Game. Sure, the Packers had dropped catches and missed tackles, but they did not make the egregious mistakes suffered by the Steelers. I don't believe this makes the game any less exciting. Yes, the onside kick out of halftime was insane last year, but does not make the game. The Packers, and Mr. Rodgers, played a hell of a game.
Though they did not get to Roethlisberger like I thought they would, they also protected Rodgers just fine. The secondary had a field day. The third and fourth Packers defensive backs, and third and fourth Packer receivers beat their counterparts across the line of scrimmage. Destiny seemed to be the Packers favor. Ben had his chance. He's proven he can take it, but it didn't happen this time. Maybe it was that the Packers had one less meltdown, but it still made for great football.
Look at my rebuttal post though. How right was I? The Packers jumped out ahead, by the time the Steelers showed up, they had too much overcome. It's like I scripted it. Rodgers did what he does:
C/ATT YDS AVG TD INT RATING
24/39 304 7.8 3 0 111.5
Pretty brilliant if you ask me, and totally deserving of the MVP. Tonight, I am very proud to be a Bear, and proud of having talked him up so much. It would have been even better in Nelson and Jones don't drop a few passes. Then again, I don't think the Packers win without the Mendenhall fumble in the 4th quarter. It was funny, Frank was yelling about his ball position the whole game, and on a carry where he had it tucked close, Pickett and Matthews combined to punch it right out.
Though Frank may be sad, he should be very happy over what the Steelers did this year. They have been an incredible team over the past five years, and though they didn't make it this year, they should still be a force for years to come.
For tonight,celebrate you Green Bay fans. They played a great game. Whether or not it was a game based on mistakes or on execution, they are champions of the National Football League.
Anyway, go Bears! Go Packers! Go A's! Go Giants! And lets look forward to another year of fantastic sports.